Events
All events at Washington Studio School are open to the public unless otherwise noted. RSVP by phone or email is kindly appreciated. Thank you for joining us.
THE BIG DRAW
Sunday, June 24 from 2 to 7pm
WSS invites District residents and artists to participate in The Sixth Annual THE BIG DRAW. Last year's popular self-portrait project See and Be Seen is coming back this year as Who Is DC? We want to see, post, and exhibit self-portraits and portraits that represent all of DC! Draw yourself, someone else, or just come and see what others are drawing from 2 to 5 pm. Then stay from 5 to 7 pm when we'll celebrate what's been created during our Happy Hour, and continue this communal gathering with lots more drawing! WSS Instructors will be available for demos and will  include costumed models, dynamic still lifes, and plenty of mirrors for self-portraits. Refreshments, music and drawing supplies will be provided. This program is free and open for all. WSS thanks Blick Art Material for donating the drawing supplies.
'REMEMBERING IT DIFFERENTLY'
We are pleased and proud to welcome acclaimed Duke Ellington School of the Arts and Washington Studio School alum Arcmanoro Niles as part of our 'Challenging the Boundaries of Perception' lecture series.
Please join us for his talk 'Remembering It Differently' — Sun, Dec 10 at 2:30pm.
About Niles Arcmanoro:
Born in Washington D.C, Arcmanoro studied Studio Art in high school at Duke Ellington School of the Arts. During this time he studied Figure Drawing at the Washington Studio School. He obtained his BFA from Pennsylvania Academy of the Fine Arts in 2013 and his MFA at New York Academy of Art in 2015. He is currently living and working in Brooklyn. His paintings chronicle his upbringing as a youth in Washington DC and illustrate the complex, multifaceted narratives within the urban landscape. By rendering his subjects so they occupy the entirety of the canvas, Niles elevates his communities and enhances their power through his characteristic blisteringly vibrant hues. Alongside his human subjects are mischievous characters dubbed "seekers," personifying forces external to the focal narratives. 
About the Joan Mitchell Painters and Sculptors Award:
The Painters and Sculptors Grant Program was established in 1993 to acknowledge painters and sculptors creating work of exceptional quality through unrestricted career support. The first year of grants was awarded in 1994 and the Foundation has funded individual artists annually since that time.
The Foundation currently awards $25,000 to twenty-five artists through a nomination process. Nominators from across the country are invited to recommend artists, at any stage in their career, who are currently under-recognized for their creative achievements, and whose practice would significantly benefit from the grant. In an anonymous process, a jury panel then selects the twenty-five awardees. Nominators and jurors include prominent visual artists, curators, and art educators who are dedicated to supporting artists.
http://www.artnews.com/2017/11/14/joan-mitchell-foundation-announces-2017-painters-sculptors-grant-recipients/
ART ALL NIGHT
Sat, Sept 23
7:00pm-Midnight
Among the extraordinary still life set-ups, faculty exhibit and participatory zentangle project at WSS, our DJ Brian Kelley is  looking for video work submissions.
art all night wss 2017 video call
SEE AND BE SEEN
LET'S kick-start the month of July with #seeandbeseen portrait @washingtonstudioschool.  A participatory #firstfridayartwalk on July 7 from (6-8pm), #WSS invites DC arts community to come and participate in the #seeandbeseen extended portrait project, which began  at the #bigdraw and will continue through July 31.  Draw yourself, someone else, or just come and see what others have drawn and are drawing.  See your own work be hung in the gallery!
This slideshow requires JavaScript.
Drawings produced at the Fifth Annual BIG DRAW.
View Fifth Annual Big Draw Info of "SEE AND BE SEEN" project.
FIFTH ANNUAL BIG DRAW

Harmony Extravaganza
View Performance Pics

What If we looked at parallels
between music and art?
Allie, Bess & Hannah will
perform 60-90 minutes of music
rich with vocal harmonies, using
guitar & piano accompaniment
Doors open @7:30pm
Suggested Donation $20
Cash or Check Only
---
HOLIDAY PARTY 2016
Live Jazz at the Party!
---
WHAT IF…
Please Join
Washington Studio School
Sunday Oct. 30, 4-6pm
for a festive party with
music, popcorn and friends,
to celebrate work of everyone in the WSS community challenging themselves to ask
"What If… they did something new and different in their art?"
Costumes Optional
Why is "What If?" such an often asked question at WSS?  Because that next 'what if' is how artists stretch, grow, explore and invent.  Members of the WSS community have been asking themselves "What If" all month and posting the results on social media using the following hashtags:
#Washingtonstudioschool, #acreativedc, #Create30, #dcarts, #artdc, and #bestofDC.
Let's celebrate the next chapter of the school and ask ourselves
* If you have not yet joined our "WHAT IF" challenge during the month of October, it is not too late.  What If you challenged yourself creatively until the end of the month?  What if you worked in a different color palette? Worked in a different scale? Worked in a different medium? Drew every day?  Pick a possibility, challenge yourself and share the results with the rest of us!
Start at anytime and share your daily results with us on social media.
2016 Art All Night: Made in DC
View album of this extraordinary event!
4th ANNUAL BIG DRAW
WSS instructors  available for demos
Costumed models
Dynamic still lifes
Studios to visit
Light refreshments
Free drawing supplies
Open and free for all
Washington Studio School
Many thanks to Blick Art Materials
for generously offering supplies for THE BIG DRAW.
View Pics for the 4th Annual BIG DRAW
This slideshow requires JavaScript.
HOLIDAY EVENT
View Pics of Holiday Party
Please join us to
celebrate the holiday season at the
Washington Studio School Holiday Party
Sunday, December 6, 3015
4:00pm – 6:00pm
Please join us for food, wine, and festivities!
RSVP to wss2129@gmail.com by December 1st
THE BIG DRAW
As we celebrate 30 years of art making to the entire community, the first 30 artists who showed up to THE BIG DRAW received a pass for an open session. Enjoy browsing at an album of randomly selected 30 drawings from THE BIG DRAW.
Painters on Paintings
Annual Holiday Party
Sunday Dec 7, 2014, 4-6pm
Please join the WSS community as we celebrate the holiday season and WSS' accomplishments this past year. Enjoy live music and refreshments, see our current exhibitions, meet our wonderful volunteers, faculty and staff, and learn about our plans for the future as we approach the School's 30th anniversary. Our Holiday celebration won't be complete without you!  RSVP kindly appreciated.
On view at WSS this month
Ken Kewley and Bettina Nelson works in 2nd floor library, and Certificate Graduation Exhibition "Wounded" by artist Pat Kraniotis in the main floor gallery.
Lecture: "Looking At Diebenkorn"
KEN KEWLEY AND BETTINA NELSON
Thursday November 13, 7-9pm
RSVP appreciated. (Come early to get a seat! RSVPs to this lecture have been overwhelming).
Ken Kewley, brilliant painter and gifted teacher, returns to WSS for a lecture and 3-day workshop.  The workshop (completely FULL) is in conjunction with the Richard Diebenkorn, "Works on Paper" show opening at the Katzen Art Center November 8. Bettin
a Nelson is a dazzling recent graduate of the Pennsylvania Academy of Fine Art and a former student of Kewley's. On Thursday, the evening before Kewley's workshop, together they present a slide talk showing the influence of Diebenkorn on their own work. In the library on the 2nd floor, join us to view a selection of works from both Kewley and Nelson and for a reception following the lecture.
Artist Statements
Ken Kewley: I make some shapes either in two or three dimensions and then adjust them until together they excite. There seems to be no end to the ways things can be adjusted: in shape, size, color, value, and texture, and/or turned around or turned over. I find that whatever is true, most times, the opposite is also true. This makes things easy and it make things hard. At least enough to fill a lifetime.
Bettina Nelson: I make collages, paintings and objects. My work comes about through improvisation and intuition
. I use mostly found materials, such as printed cardboard found on recycling night, and other portable and non-toxic materials. Design, shape and color are always important; I use their different arrangements to create stories. Usually from the start I do not know what the piece will end up being, and if I think I know, I am often wrong. Without a predetermined outcome or path, the freedom to follow impulses lead to unexpected things. With great trust, my work is where risks and impulses are completely safe, where I can easily fall in love.Titles are important to me; they suggest a personal, emotional narrative. The work can exist with or without their narratives. My works need each other, like a sister to a brother, a lover to a lover.
Materials: Golden Paints Demo
Washington Studio School
2129 S Street, NW
Thursday October 30, 1:30-3:30pm. 
RSVP required.
The 
Golden Paints
demo is a two-hour free educational presentation on paint, covering a broad range of acrylic products, as well as information about Williamsburg Oils and QoR Watercolors. The lecture covers pigment properties and paint formulations, gels, pastes, grounds, color mixing, drying time, health & safety concerns, and much more! Various acrylic materials and techniques (glazing, impasto, blending, grisaille…) will be demonstrated to enrich your understanding of the medium, among these you will learn basic tips for how to extend paint to save money and how to mix paints with gels and pastes to create exciting textures!  We will also discuss Golden's newest products, including the High Flow paints!  Discover the possibilities and become inspired with how these fabulous materials can be added to your own creative process! Each attendee will get an information packet and some acrylic paint samples to take home!
Don't miss this great opportunity to expand your medium knowledge! Free to the public, very informative and great to learn new techniques!
Art All Night DC, Saturday September 27
Washington Studio School
2129 S Street, NW
7:00pm -11:00pm
Washington Studio School invites you to a festive evening of Making art, Seeing art and Experiencing good music. Exotically costumed live models in elaborate theatrical set-ups will be on three floors. Paper, charcoal, chalk, pencils, and tons of crayons will be available for you to use. Come for a few minutes or for all four hours! While you're here, check out the exhibition of faculty work in the main floor gallery – all to the tunes of DJ/artist Brian Kelley. Cookies served all night! 
Art All Night DC, presented by the DC Commission on Arts and Humanities, is an all-night exploration and celebration of contemporary art, encompassing five of DC's most vibrant neighborhoods: Dupont Circle, Shaw, North Capitol, H Street NE, and Congress Heights. Watch as DC's creative community re-imagines public and private space and invites us all to see our city anew. Indoor and outdoor venues will showcase work by artists in a diverse range of media – with vibrant visual arts, street performances, live music, and DJs contributing to an unprecedented mash-up of cultural experiences in the nation's capital. Visit DC's creative community venues from 7pm to 3am on Saturday September 27. Learn more, locations, maps and artists at ArtAllNightDC.com.
Critique Session, Friday July 25, 3-5pm
UNIQUE OPPORTUNITY TO HEAR THEIR DIALOGUE!
Please join our summer Artist In Residence, Reem Bassous, along with her former teacher, Jo Weiss for a group critique/dialogue on Friday, July 25 from 3-5pm.  While working towards her MFA at George Washington University, Reem took a number of classes at WSS with Jo. A dialogue began and continues today. Come and hear the conversation that ensues over a selection of student work! First five students to respond may have their work critiqued – but all are welcome  and encouraged to attend and learn! No fee, however donations are greatly appreciated!
Please contact us to register as a WSS student with works or as an observer – 202-234-3030.
Maggie Siner, Visiting Artist Lecture
"Rembrandt and the Painter's Hidden Geometry" with Maggie Siner.
Saturday, Feb 8, 2014, 3pm, $15. Register online or contact us.
Great painting is built on great structure. Discover the secret geometry that underlies pictorial composition as artist and teacher Maggie Siner guides us on an amazing journey through the shapes of a Rembrandt self-portrait, revealing its beautiful and sophisticated hidden meaning. This lecture is fascinating for both painters and non-painters.
Annual Holiday Party
Sunday Dec 8, 2013, 4-6pm
Join us for our annual holiday festivities and closing reception of two exhibits: WSS Faculty Show and Stuart Shils, "Drawings and Photos"
Stuart Shils, Visiting Artist Lecture & Exhibit
"Reframing the Ordinary" Condé Nast vacation or a bagel at the corner: Beginning with the Ordinary and Taking Closer Notice of What's Right Before Our Eyes
Join us! Thursday, October 10, 2013, 7pm for a lecture followed by an opening reception for Shils' paintings and photographs on view in our 2nd floor library.
Washington Studio School is pleased to welcome renowned painter Stuart Shils to present an artist's talk, open to the public, on October 10 at 7pm and followed by an opening reception for his paintings and photographs on exhibit in our 2nd floor library.
Shils will also be at WSS teaching an all-day urban drawing workshop on Saturday October 12. (Class is full. Please call to be placed on the wait list.)

"It's coming from an internal conversation with myself but also it's coming from being out of doors for many years with the sensory sails hoisted, from the long conversation with many observations and considerations of things in the visible world even if they were only absorbed peripherally. And when you're working "out there", your job is not imitating what's there, you're trying to bring it all inside of yourself and beat your way into an interior place where it can get cooked up. And how all of this is going to come to the surface, how it's all going to work out remains to be seen." Stuart Shils to Nikolai Fox. Read more about this discussion here
Book Group: WSS is Reading
NOTE: NO BOOK GROUP FRIDAY 12/20 and 12/27
Meets Fridays 11-12:30pm. Discussion begins Sept 20
Open to all artists and the public
"The Books That Shaped Art History" is a series of articles originally published by Burlington Magazine critiquing the 20th century classics of art history. While the books included were published in the 20th century, the topics range from medieval to modern. This book may give us ideas for further reading in our Book Group and for your personal reading. It's a new book, publisher is Thames and Hudson. Book discussion starts September 20th. Please read the introduction. For more information, contact Phyllis Mayes at phyllismayes@gmail.com
Reem Bassous, Visiting Artist Exhibit
Friday, August 30, 2013
Artist Talk, 6:00pm followed by Opening Reception, 7:00pm
Lebanese-born artist Reem Bassous returns to Washington Studio School at the end of August with a two-day workshop and a new exhibition "Green Line" on view August 28 through October 5 in the WSS first floor gallery. Join us in this special opportunity to study Bassous' works and to hear from the artist herself.
Special Event at The Phillips Collection
August 22, 2013 Thursday, 6:00pm at the Phillips
Don't miss this workshop, "Georges Braque and the Cubist Still Life," at The Phillips Collection, led by artists Ken Kewley and Jill Phillips. Reservations must be made through the Phillips here.
In this two-hour workshop, artists Ken Kewley and Jill Phillips begin with a short discussion on the Braque exhibition at The Phillips Collection focusing on the artist's use of spatial arrangement and surface texture. Participants then respond to Braque's work by creating collages in a classroom setting. All tools and materials are provided, and all experience levels are welcome. This event at the Phillips is produced in collaboration with Washington Studio School. Tickets must be purchased through the Phillips here. Cost: $25 for members and $35 for non-members. Fee includes entrance to the museum.
* The Phillips Collection at 1600 21st Street, NW is located three short blocks from Washington Studio School.
Ken Kewley Talk: Drawing from Braque
July 11, 2013 Thursday, 7:00pm at WSS
Visit to The Phillips, 3:30-5pm:  Before the slide talk, join Kewley at The Phillips to view the Braque exhibit: "Georges Braque – The Cubist Still Life 1928-1945." Meet at front entrance of the museum, 3:30. RSVP kindly appreciated.
Washington Studio School is conveniently situated three short blocks from The Phillips Collection, 1600 21st Street, NW.  Entrance fee to the museum for non-members, $12.
The Big Draw 2013
June 30, 2013 Sunday, 12:00 – 4:00
A festive afternoon of drawing for artists, friends and neighbors. Come draw for an hour, or stay for the afternoon.

Costumed models and dynamic still-life setups for you to draw from! WSS teachers available for instruction and demos. Music and light refreshments for you to enjoy! Studios to visit! Basic drawing materials are provided, but you are also welcome to bring your own.
Art supplies generously donated for this event by Utrecht! And thank you to our wonderful WSS community of artists and supporters for making this event possible.
ANNUAL STUDENT SHOW – CALL FOR ENTRIES

Our annual juried student show will be on exhibit July-August. This show demonstrates the best of WSS by showcasing excellent drawings, paintings and sculpture produced within the past 18 months. Works from students of all levels are represented and is juried accordingly. Work must have been produced at WSS or independently in direct continuation of work done in a WSS class. We can not accept work done with an instructor at another school.
This year, the show is juried by artist Milena Spasic.  Many of you will remember our recent exhibition of Milena's exquisite works in January 2012.  Others know Milena as the expert on all art materials from shopping trips to Utrecht.  Milena will be looking for work that is technically sound, demonstrates a strong understanding of visual language, and takes the classroom lessons into a personal realm.  She will also be looking for a balanced and overall unified show.  While a juried show means that all works cannot be accepted, and that sometimes it takes a few years of trying before being accepted (making the acceptance all the more meaningful!), the quality of the work in the show is always a strong testament to both our students and our faculty. 
Faculty are available and happy to help with suggestions, but since the jurying depends on one person's sensibility there is no guarantee that a faculty recommendation will be accepted.

 

This, however, makes each show unique in it's feel.

 

Work should be submitted for jurying by Thursday, June 6th and will be juried on Friday, June 7th.

 

Up to 3 pieces can be submitted per student.

 

Work

 

does not have to be framed for the jurying process, but needs to have

 

your name, title of piece, phone number, e-mail address,

 

student level (beginner, intermediate, advanced), and medium attached to the piece.

 

THERE WILL BE NO LATE ADDITIONS TO THE STUDENT SHOW, as this negates the jurying process.

 

Work MUST be submitted by the deadline.
We will do our best to notify everyone by e-mail about the status, but work will be placed in two different locations depending on whether it is to be in the show or not. 
It will need to be picked up and prepared for exhibition if it has been accepted (framing, wiring.)

 

Unless they are exceptionally large, all drawings should be framed and wired for hanging.

 

Simple frames are best for group shows, and they can be found inexpensively.

 

Paintings do not need to be in frames, but many students like to paint the edges or use electrical tape to give them a more finished look.

  

Simple lattice wood strips cut to size also work well as inexpensive frames for paintings.
Accepted work should have the artist's name, contact info, medium and price (if for sale) attached.  It should be returned by July 1st as hanging will begin that day.
Reception date is to be announced, but is tentatively set for July 19.

Lectures
Throughout the year, WSS presents lectures by guest artists, curators, art historians and members of the faculty on contemporary topics of interest to the arts community. In addition, gallery talks are held in conjunction with exhibits.  Free and open to the general public, these lecture-related events and gallery talks are popular among students and residents from the surrounding communities. Seating is available on a first-come, first-seated basis. Registration is not required but greatly appreciated by emailing admin@washingtonstudioschool.org.
This fall, painter Mitchell Johnson visiting DC from his home in California joined us at WSS to give an informal presentation about color.  In the 1980's Mitchell studied with us here at WSS before moving to NYC, where he attended graduate school at Parsons School of Design. Mitchell's paintings explore color and shape simultaneously, in abstract and representational ways,  and are held in more than 700 collections. This collection includes over a dozen museums. He is represented by galleries around the country, and is the subject of numerous publications and articles.
Art historian Jen Samet delivered a stimulating lecture on "The Role of Empathy in Art," delivering plenty of great food for thought. The lecture was well attended, bringing many from the WSS community of artists, students artists, and nearby neighbors.
Past lectures at WSS have been presented Jed Perl, Mason Oliveira, Stuart  Shills, Paul Richard, Dore Ashton, Elizabeth Broun, Richard Cohen, Eric Denker, Reed Kay, Don Kimes, Hilton Kramer, Robert Kulicke, Stanley Lewis, Law B. Watlins, and Margaret White.
As an extension of our teachings in drawing, painting and sculpture, WSS brings its students a variety of films about art and artists.  Free and open to the public, our film series is offered on Thursdays three to four times a year and is followed by a faculty-led discussion. Please check our events calendar for updated film presentations.  RSVP is not required but is greatly appreciated by emailinb admin@washingtonstudioschool.org.
Past films include Bill Cunnigham's " New York", Balthus, Alberto Giacometti, Andy Goldsworthy "River and Tides", "Louise Bourgoise: The Spider, the Mistress and the Tangerine," and Francis Bacon.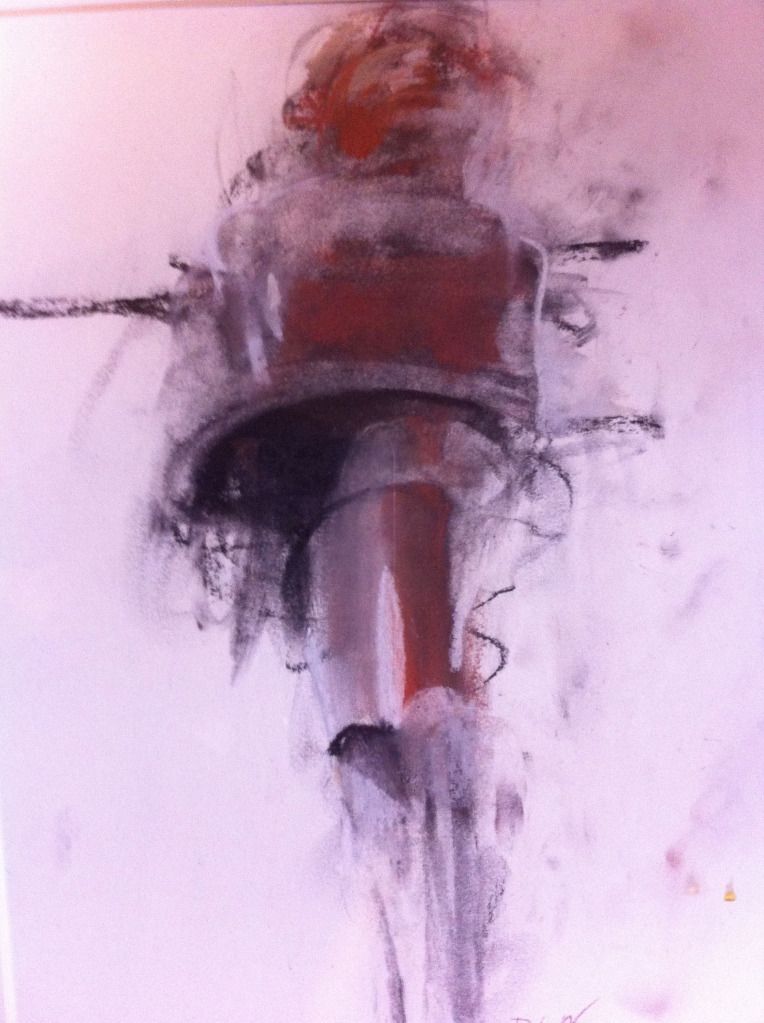 Washington Studio School presents exhibits throughout the year in our gallery on the main floor and second floor library. These exhibits profile the works of students, faculty, and guest artists both as a teaching tool and to raise awareness of our artists community to the public. Each exhibit is on view from four to six weeks. Free and open to the public, WSS presents the artist at his or her opening reception. These are held during the evening on a Friday or Saturday. On occasion and in conjunction with artist exhibits, we hold artist gallery talks.
Washington Studio School provides critiques for current students and students in our certificate program. This is an opportunity for students to bring works in progress to be evaluated by professional artists who are teaching faculty or closely involved with our community of artists. We ask students to register in advance. Critiques are usually scheduled at the latter half of the term and are free.  Past critiques have been led by faculty and guest artists including Jo Weiss, Juliana Netschert, Jack Boul, Martin Kotler, Susan Yanero, Lee Newman, Carolyn Reece-Tomlin, Carlton Fletcher and Diane Wilson.